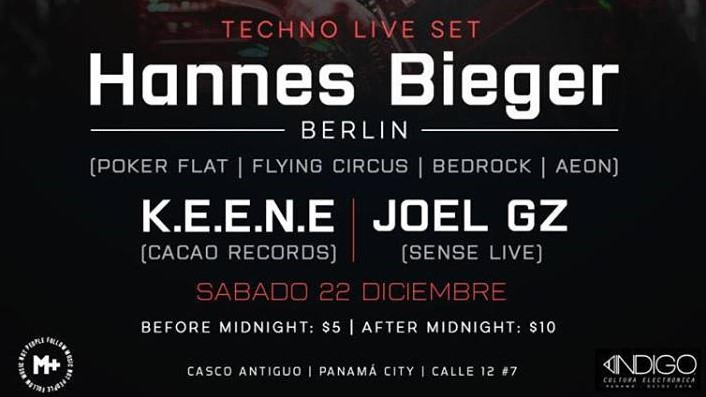 Hannes Bieger
Moloko+
Sat Dec 22nd 2018
---
Calle 12, 7B

,

Casco Antiguo, Panama City
https://www.myguidepanama.com/events/hannes-bieger
---
Moloko Plus
MAKE ENQUIRY
Event Details
Master of masters in Moloko Plus,

Poducer and genus of the infinite mix from all over the world; Worldwide djs of the last decade.

Hannes Bieger will do his only set in Central America in Moloko + with a his unic set and ALL this in FULL LIVE set!

As one of Europe's most in demand mixing engineers Hannes Bieger has built an untouchable reputation, with an exhaustive client list that includes some of the biggest names in contemporary house and techno. In 2017 Hannes decided to step back into the foreground and start making his own music again, emboldened by years of experience, a renewed zest for production and a lifelong
romance with electronic music. Hannes Bieger is a mixing and production powerhouse with a live show that will blow your socks off...

After 11 years ago in the world of mixing and mastering, Hannes was at the top of his game, his magic touch making him a popular choice for a variety of famous producers. However, since 2017 he has been focusing his energy on producing his own music and building an unforgettable live show. Hannes returned to making his own music with his debut EP on Poker Flat in 2017 inspired by the
purchase of a coveted Moog modular synth in 2016, which reinvigorated his passion for producti
on. With an endless stream of case studies passing through his operating table, Hannes came to learn exactly what works when it comes to premier dance floor material. Learning key lessons from some of the most talented producers in the game, he has accum ulated a huge store of knowledge and skills resulting in a deeply intuitive, 'less is more' approach. Placing great importance on this
reductive method for his own productions, the results have been impressive, with several key labels signing his music for release. They include his 'first' release on Steve Bug's Poker Flat, the 'Strato' EP, which picked up positive feedback across the board, with an '8 out of 10' review in Mixmag. This was
followed by 'La Selva' on Audiofly's Flying Circus, an EP which the duo continue to support up until today, plus a follow up to 'Strato' on Poker Flat called 'Tephra' in June 2018.

Hannes has also remixed Monkey Safari for Hommage Records, dropped a beautiful ambient composition called 'Birth Of An Island' on Aeon and has an exclusive track, 'Mauna Loa', featured on Bedrock's huge 'XX' compilation celebrating the influential label's 20th anniversary. Parallel to his production exploits, Hannes has been investing his time and energy into creating his own live show. Over the years he has poured his earnings into collecting a mouthwatering selection of synths. Forming a symbiotic relationship with these machines means the production process always takes place outside the box, with a spirited, physical approach to making music. This technique allows Hannes to have fun while making music, to embrace the physicality of his sounds and immerse himself in the production process, resulting in music that comes straight from his heart and soul.
This same process is applied to his live show, bringing the studio on the road with him, making zero sacrifice in terms of quality to present audiences with a live performance on high quality equipment. His set up includes a Moog Sub 37, DSI Prophet 6, a few effects pedals and a UA Apollo 8
all played through an SSL board, reinforcing Hannes' belief that there should be no cutting corners when it comes to live shows. His debut at IPSE, on 11th August 2018 in Berlin, went down a storm, and the hour - long performance gave Hannes a huge confidence boost. Now he's set to travel across
the world with his remarkable collection of machines, promising to deliver a scintillating set at every show. Things have come full circle for Hannes, going back to performing live, which is where his
musical journey began back when he was a teenager playing in bands. With a tour of South America also in the pipeline, including live shows and masterclasses across the region, and another EP release due on a big big label, Hannes first year as a solo producer couldn't have gone any better.
Proof that dedication to one' s craft and an uncompromising focus on quality over quantity can provide the perfect foundation to a lifetime of success. Just a year in and Hannes Bieger is destined for bigger and better things, watch this space for much more from this talented artist...