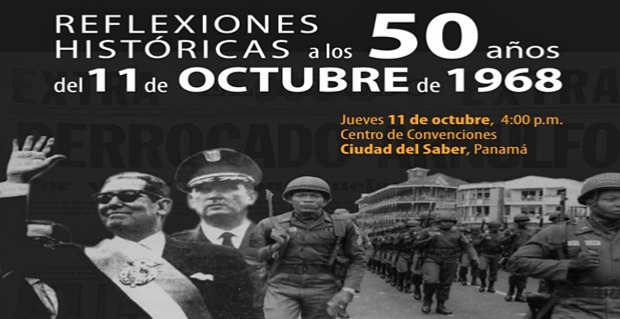 REFLEXIONES HISTÓRICAS A 50 AÑOS DEL 11 DE OCTUBRE DE 1968
REFLEXIONES HISTÓRICAS A 50 AÑOS DEL 11 DE OCTUBRE DE 1968
Thu Oct 11th 2018 at 16:00
---
Panama
,

New 1

Panama
https://www.myguidepanama.com/events/reflexiones-historicas-a-50-anos-del-11-de-octubre-de-1968
VISIT WEBSITE
Event Details
The City of Knowledge Foundation, the Association of Anthropology and History of Panama and the Center for Democratic Initiatives invite you to participate in the forum "Historical reflections at the 50th anniversary of October 11, 1968", which will take place on Thursday, 11 October, at the City of Knowledge Convention Center at 4:00 p.m.
Academic event of reflection and dialogue about the legacy and current significance of the coup d'état of 1968. The forum will begin with the keynote speech of Dr. Aldo Marchesi (Uruguay) with the title "Latin America in 1968, from the perspective of the global history", followed by an introductory lecture to the thematic panels by Dr. Marixa Lasso (Panama) entitled" Revolution or continuity, the legacy of the 1968 coup".
Subsequently there will be two thematic panels in which specialists will question what changed in 1968, examining in which policies there was continuity and in which there was change.
This will be a free event and open to the public. For more information you can visit the following link: www.aahpanama.org.