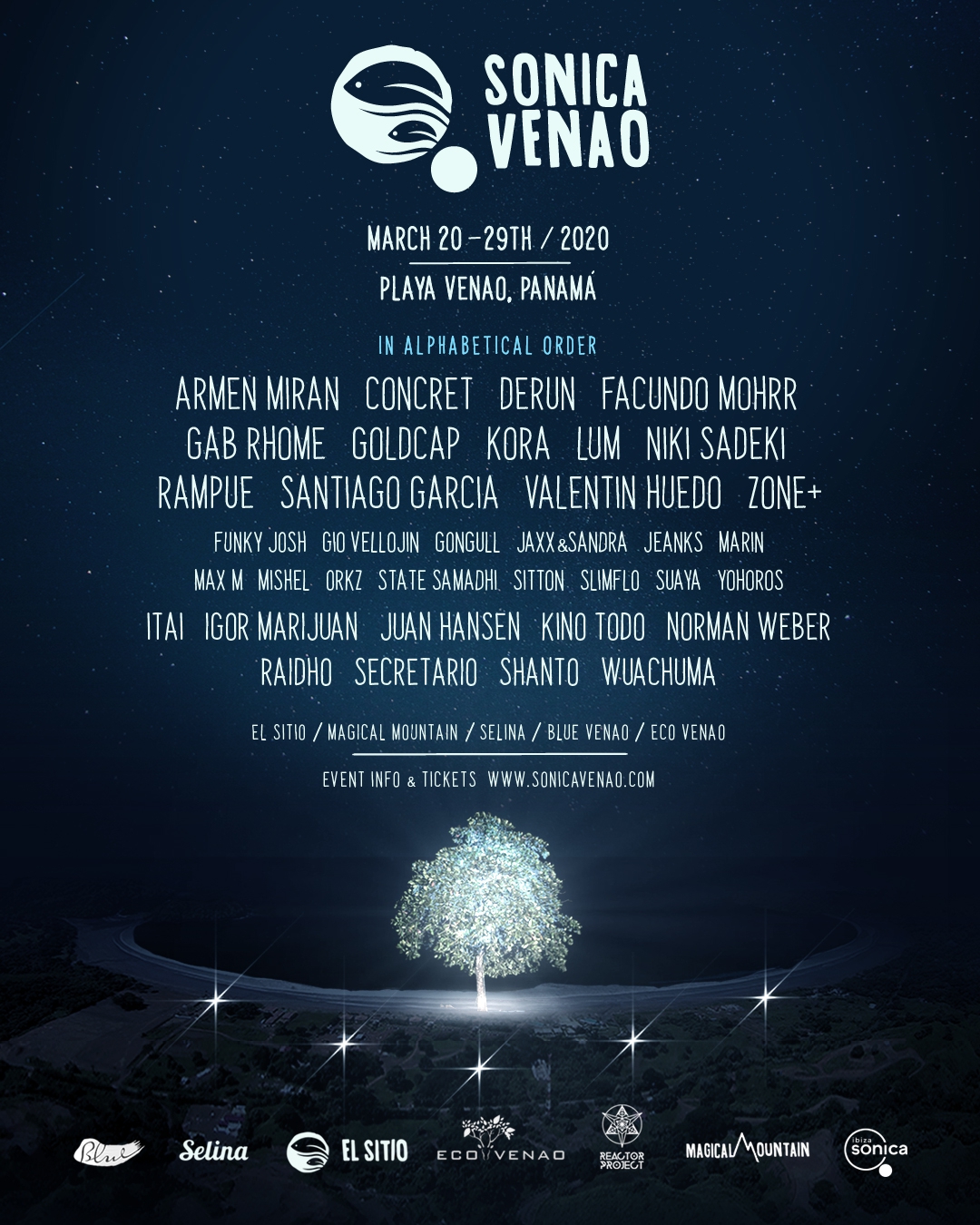 Sonica Venao Annual Art & Music Gathering
Playa Venao, Pedasi
Fri Mar 20th 2020 to Sun Mar 29th 2020
---
Carretera Nacional

,

30km from Pedasi

,

Panama

,

Los Santos
https://www.myguidepanama.com/events/sonica-venao
---
Playa Venao (Vena'o)
MAKE ENQUIRY
BOOK NOW
Event Details
Events in Panama - Annual Art & Music Gathering in Playa Venao

What started 8 years ago as a fun party has been evolving into a Burning man inspired melting pot of disparate rhythms and cultures creating a unique and pleasantly unpredictable vibe that can be felt throughout all of Venao.

For the 1st time the entire community of Venao is joining forces for 9 days of a magical oceanside gathering on 6 stages all over the Playa. You will find music, events, workshops at El Sitio, Eco Venao, La Barca, Selinas and Blue.

MARCH 20-29th, 2020
International and locally renowned DJs are a part of an unbelievable line-up of music that make you dance for hours from sunset to sunrise in environment what we like to call ''heaven on earth''.


ARMEN MIRAN – CONCRET – DERUN – FACUNDO MOHRR – GAB RHOME – GOLDCAP
KORA – LUM – NIKI SADEKI – RAMPUE – SANTIAGO GARCIA – VALENTIN HUEDO – ZONE+

ITAI – IGOR MARIJUAN – JUAN HANSEN – KINO TODO – NORMAN WEBER – RAIDHO
WAUCHUMA – SECRETARIO – SHANTO – WUACHUMA

FUNKY JOSH – GIO VELLOJIN – GONGULL – JAXX&SANDRA – JEANKS – MARIN – MAX M
MISHEL – ORKZ – STATE SAMADHI – SITTON – SLIMFLO – SUAYA – YOHOROS
Wellness
workshops and full body-mind experiences brought by experts from all over the world. Specifically designed for deep relaxation it is definitely the perfect combination to achieve the best version of yourself.
Take refuge in a heavenly place and enjoy the best music scene for your once in a lifetime experience. Look no further. You are here already. Nothing else can compare to what you are about to
experience here
. You will leave wanting more. Every. Single. Time.