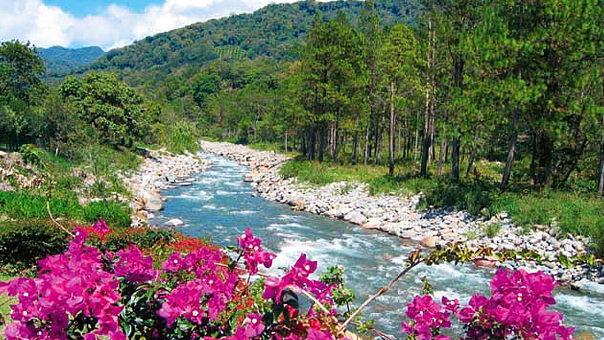 ATP invites you to celebrate 'Christmas in Boquete'
Celebrities Family Fun Seasonal Celebrations
Boquete will celebrate the Christmas season with a great parade and lights, a joint initiative between the Tourism Authority of Panama, the Boquete City Hall and the Chamber of Tourism, to promote it as an ideal destination to spend the holidays at the end of the year .
The Christmas lighting is scheduled for December 8, at 6 pm, from the Center of Interpretation and Tourist Facilities (Cefati) to the new vehicular bridge of Panamonte on the Caldera River, and will remain until January 6, Kings Day. On the 8th there will be Christmas carols alluding to the season, orchestras, Christmas bazaar and gastronomy.
The Christmas parade will be held on December 25 in the Central Avenue as traditionally has been done, with the participation of bands from schools in the area and special groups. "Navidad en Boquete" also includes two artistic presentations, one on December 16 with Samy and Sandra Sandoval, and another on January 6, with a large fireworks display.
Indicated that
Boquete
, which is part of the pilot plan for tourism municipalities promoted by the ATP, is the second most visited place in the interior of the country with a rich tourist offer of experiences in nature, adventure, gastronomy and more.
Jorge Tovar, from the Chamber of Tourism of
Chiriquí
, said that the activities that have been prepared are part of the actions that have been proposed for the destination to resume its growth rate after the works carried out in the district, and it is expected that have an impact on the flow of visitors both within the district and throughout the province.
"These events, like the opening of the Coffee Circuit on December 6, are a strategy of relaunching the destination and seek to generate again the opportunity to convey the radical change that Boquete has had in terms of infrastructure and facilities," he said. In
Boquete
, the Government of the Republic currently works in the Sewerage System, which has a value of 22.5 million balboas and will benefit more than 20 thousand residents of the corregimientos of Los Naranjos, Bajo Boquete and Alto Boquete.
Written by:
Panama Local Expert
PUBLISHED: Dec 16th 2018