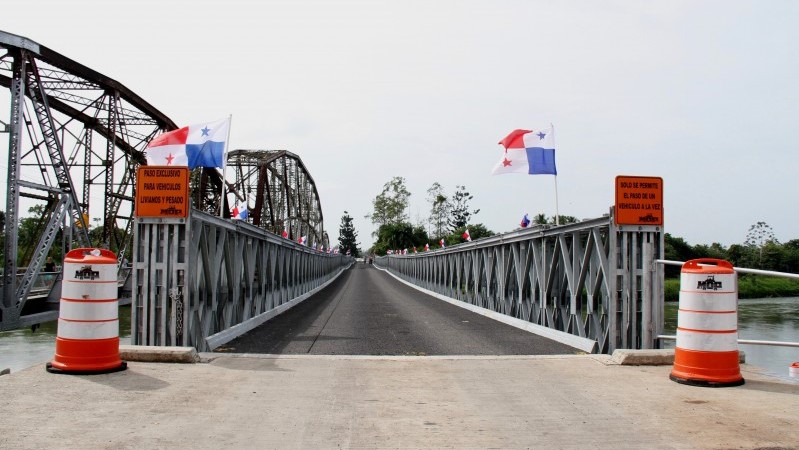 Costa Rica and Panama ready for the construction of the bridge over the Sixaola River
Editorial Lifestyle
The president of Panama, Juan Carlos Varela and his vice president, Isabel de Saint Malo, were received at the Presidential Palace by the Costa Rican president, Luis Guillermo Solis, and the Republic's chancellor, Manuel González.
The Vice Ministers of Public Works of Costa Rica and Panama, engineers Giselle Alfaro and Erich Velásquez, met in Bribri, Talamanca, to refine details of the construction of the new Binational bridge over the Sixaola River.
The work is in charge of the United Nations Office for Project Services (UNOPS) and the construction was awarded to the Binational Consortium of Sixaola, comprised of the companies Constructora Meco of Costa Rica and the Mexican companies Cal y Mayor Asociados and MEXPRESA, for 17.5 million dollars, both from the Mesoamerican Infrastructure Fund of the Mexican government, and counterparts from both countries.
The design of the work has already been approved by UNOPS and will be validated in the coming weeks by both nations to start the construction phase. Previous important advances have been made: 70% progress in the dismantling of the railroad bridge, and 30% in the construction of a temporary bridge on which the heavy equipment will be located and the personnel in charge of the development of the work, foreseen to enter service in mid-2019.
To facilitate coordination and expedite the works, a procedure was approved, which seeks to regulate the operational movement in the border area during the construction process, allowing the proper functioning of migration services, customs, phytosanitary offices, personnel that is currently in process of relocation.
The procedure clearly defines the "Binational Area" -perimeter where the bridge construction project is carried out- and ensures the proper application of labor and migration regulations of each country, as well as those necessary for the transfer and use of tools, equipment and machinery. to be used, and the materials to be incorporated in the work, its handling and mobilization
Written by:
PANAMA LOCAL EXPERT
PUBLISHED: Dec 16th 2018