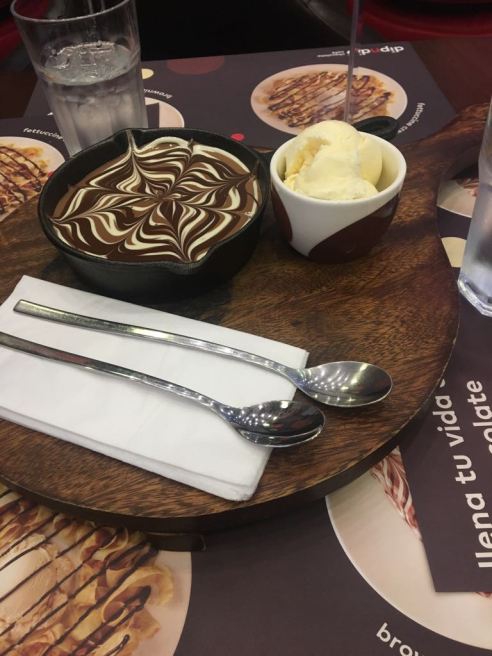 Dishes you should try at AltaPlaza Mall
Family Fun Food & Drink Lifestyle
In
AltaPlaza Mall
there is a wide variety of places to eat and for all tastes. With friends, with your partner or family, there is always the typical question of "What do you want to eat?", Along with the typical response of "I do not know, what you want." Whether restaurants or food court, here you I leave a list of the dishes that you can choose and try so that there is no longer that "I do not know, I can not think of anything" when the belly calls.
For lovers of sweet things, what everyone calls "dishes not suitable for diabetics" is the
Cookies n Brownies
in a Pan. Just as the name says, it's cookies and brownie in a pan with ice cream of your liking. I recommend you order vanilla ice cream. It's the cliché, brownie with vanilla ice cream. But the truth is that it is so sweet that many are cloying them. This flavor of ice cream does not make the sweet so much, making it the perfect companion.
The
Fiesta Lime Chicken
is a dish you can not eat at Applebee's. This dish has a delicious and juicy chicken, chips and delicious rice. The teriyaki sauce, lemon juice, ginger and a little tequila are some of the elements used in cooking the chicken, which make it something unique. This and the ribs are two dishes that you should try when you visit this
restaurant
.
Does not it happen to you that you do not like sushi but all your friends do? If you are on the same page as me, I recommend you try the Nation
Sushi
Yakimeshi. It is a Japanese fried rice with a combination egg, chicken, meat, sesame oil, soy and other species that will make you wonder why you had never tasted it before! This dish usually comes with shrimp, but if you're allergic like me, be sure to tell the waiter.
Always thinking about their customers, allergic people are given food on a plate with different designs than usual. This to distinguish that this order comes without any element. I usually share this dish between two since I feel it is a lot for just one person.
Except when I'm very
hungry
, there if I eat everything. If you do not want to eat rice, but you're very hungry, I recommend the Res Wrap in Curry Sauce. With tomato, lettuce, meat, avocado accompanied by potatoes and salsa is a killer combination for your palate. Something you will not regret.
Choosing between salty or sweet crêpes is one of the most complicated things we have to do sometimes. However, if you decide on a salty one, I recommend the chicken crêpe with cheese and mushrooms. From the first bite, I was amazed. I slowly savored that melted cheese mixed with the chicken and the delicious sauce.
Written by:
Panama Local Expert
PUBLISHED: Mar 12th 2019