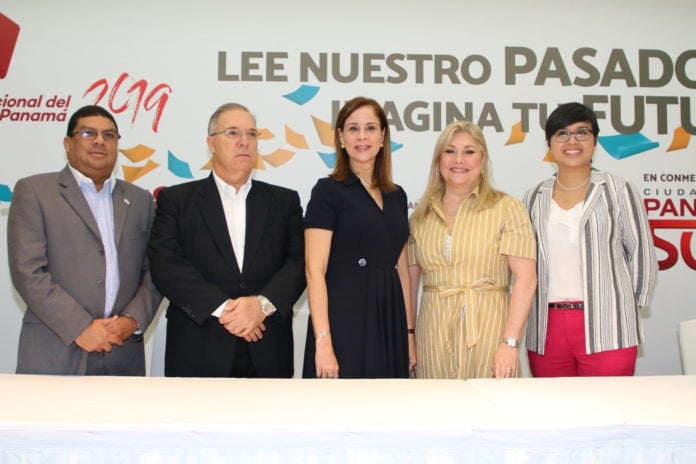 Panama Book Fair: August 13-18 at the Atlapa Convention Center
Arts & Culture Editorial Family Fun
Panama City
commemorates its 500 years of Foundation, 500 years of culture, tradition, literature, poetry, 500 years of continuous creation.
To the
Republic of Panama,
to its distinguished writers, to all its artists, to its legacy, to its unquestionable heritage, emblem of national pride, we dedicate this fair edition. Emphasizing understanding our legacy as a nation, analyzing our present in order to build the future in the midst of the country's cultural and human diversity.
Care and Restoration of the Environment,
peaks the theme of the Children's Pavilion under the slogan "Save Panama for 500 more years" and seeks to publicize the value of our natural heritage and how through education we can face its protection and defense .
Migration: It is one of the most controversial issues of today and also one of the least discussed. That is why, together with the United Nations, we will establish a dialogue on this humanitarian emergency, especially with refugees and Afro-descendant diasporas.
The Journalism Forum.
Memory and Human Rights
. 30 years after the Invasion, history relives in the award-winning investigation of the Concolón Journalistic Collective. Made to never forget.
The rights of women will be widely discussed, in the company of the Feminist Identities Meeting, to continue an agenda that promotes gender equality in all social, political and economic instances.
Poetry as a guest of honor, will have an exclusive day at the fair. This has been achieved thanks to an alliance with the Ars Amandi International Poetry Festival.
Reading Promotion Congress by the Panamanian Chamber of the Book
in alliance with MEDUCA, "Read to conquer the 21st century". seeking to encourage reading, creative writing and critical thinking.
We also highlight The Youth Alley. S
pace was inaugurated last year
and due to its great success as young book lovers, this space has been maintained for all fans of magical worlds where literature takes.
Among other interesting conversations, we will have the one from Fake News, given by Concolón, the national journalism collective. They will give us the guides of how to recognize them? How to investigate a false news? What is the responsibility to fake news?
We will also have the Copyright Seminar that seeks to update lawyers and cultural managers in the various socio-cultural dynamics of copyright rules in the region.
Recognizing as the basis of our program to have a varied cultural offer, like last year, we will have a Piano Bar, where live music, theater and all kinds of cultural expression is welcome.
Let's take the
opportunity to celebrate our authors and also to recognize the new talents of literature
. We are proud to highlight more than 30 new literary works that will be presented by emerging and recognized national authors, to name a few such as:
Magdalena Camargo, Héctor Collado, Osvaldo Reyes, Rose Marie Tapia, Marixa Lasso Enrique Jaramillo Levi, Gorka Lassa, Ela Urriola, Carlos Wynter Melo, Mar Alzamora, Luis Eduardo Verdurmen and Javier Alvarado.
We will share with them dialogues, workshops and conversations to question various topics of interest.
It is also worth mentioning the participation of valuable international authors, creating bridges with other literatures and with the responsibility of being the most important cultural event in the country, here those who have already confirmed participation:
COLOMBIA: we have Olga Cuellar, Mario Jusrich and Yokoi Kenji, COSTA RICA: Luissiana Naranjo, Teresita Borge and Evelyn Ugalde CUBA: Marilyn Bobes, Mirta Gloria Yañez
MEXICO: Isabel Zapata, Benito Taibó, Carlos Ruiz González and Janeth G.S.
GUATEMALA: María Inés Elgueta
PERU: Alberto Vergara Paniagua
ARGENTINA: Patricio Sturlesse, Bernardo Stamateas
USA: Sheila Walker, Toshi Sakai, Michael Connif and Gene Bigler
AND FROM EUROPE we have the special participation of:
PORTUGAL: Gerónimo Pizarro, most important researcher of the work and life of the Writer Fernando Pessoa, emblem of Portugal
From FRANCE Pascal Brioist, Doctor of History, presents a series of lectures "Da Vinci in Panama: 500 years later"
GERMANY brings us Florian WeiB, from the Goethe Institut who will give illustration workshops on the Renaissance, as well as a photographic exhibition on Humboldt in America
SPAIN: Cristina López Barrios, Presentation of "Haze in Tanger" and will give creative writing workshops
Written by:
Panama Local Expert
PUBLISHED: Nov 17th 2019