Air Panama
Panama is a paradise. We know that choosing a place to visit can be difficult. That's why we've made it easy for you by giving you a map of every destination Air Panama fly´s too. Get ready to discover Panama! All their flights leave format he Marcos A Gelarbert Airport Their Flight itinery offers flights all over the country and to one flight to Costa Rica.
Air Panama flies to 22+ amazing destinations.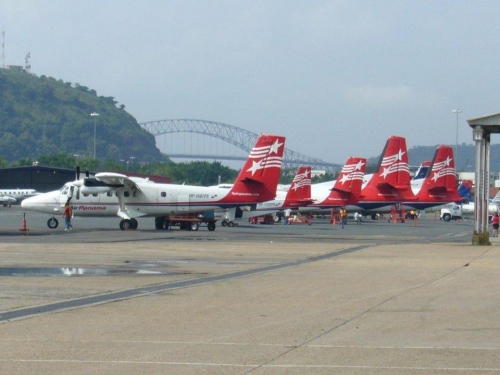 Regulations
Baggage:  National Flights
 
Baggage to register
Each passenger is entitled to carry 30 pounds of luggage (14 Kilos) baggage on flights from David / Bocas del Toro (Island) and Changuinola.

Each passenger is entitled to carry 25 pounds of baggage (12 Kilos) of baggage on the routes of Chitre, Pedasi, Island Pearls, Darien and San Blas.
Baggage NOT allowed
For its condition the following articles are regarded as dangerous goods and may affect flight safety is, therefore, one can not carry as checked baggage or hand.
Incendiary or explosive materials.

Items with flammable or poisonous gases such as butane, oxygen or liquid nitrogen.

Flammable liquids such as gasoline, oil, alcohol, paint, ether, solvents.

Materials such as oxides chloride of lime, peroxide, fertilizers based on ammonium nitrate.

Toxic or infectious as poison, pesticides, kill weeds, insecticides, or organic-type virus.

Radioactive materials.

Tanks chlorine, oxygen fire extinguishers.
Charge for excess baggage
It applies a surcharge for excess baggage last pounds were collected and allowed 1% on the published fare. Any excess baggage is accepted as baggage conditional and subject to available space inside the
aircraft. If there is available space would be sent on the same flight, otherwise, it will be sent on the next flight.
Hand Baggage
The hand baggage on all flights should not exceed 5 pounds.
Articles for carrying by hand as Jackets, purse, hat, a bag with baby items, notebooks computers, video or photographic equipment, portfolio, canes, crutches, prostheses, and wheelchairs, provided that the passenger demand.
Hand Baggage NOT allowed
Knives, razors, short nails, knives folding or retractable, scissors, sharp pangs articles, lighters, matches.
For more information visit Air Panama