Bocas del Toro
Bocas del Toro province consisting of innumerable islands and atolls covering a total area of ​​approximately 250 km². It is a real quintessence of paradise - crystal blue waters, beautiful beaches, mild and warm climate, numerous, also endemic, species of fish, amphibians, reptiles, and birds. Without any problem, you can rent here water equipment to explore both underwater and on the surface.

Bocas del Toro is just a dozen of larger islands, including the most famous Colon with the main city commonly known as Bocas Town. There are numerous bars, cafes, and discos here, and the hallmarks are the colorful wooden houses and the contagious luxury and friendly atmosphere typical of the entire Caribbean. The city is a natural base for exploring the archipelago, although the island of Colon itself can also offer many beaches with gentle waves, blue water, and fine sand, including the most famous Playa de Estrellas (Starfish Beach), where you can meet many gold-orange representatives species. Another well-known of them is the Wizard Beach surfers' mecca. Bastimentos
together with the surrounding waters creates the Isla Bastimentos National Marine Park.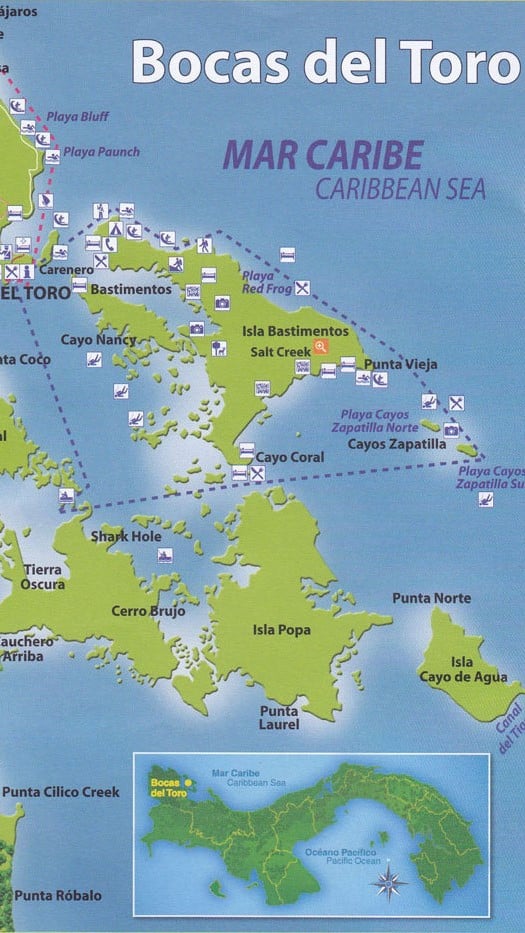 The best place to stay in Bocas, due to its location, attractions, and easiness of moving to other places is Isla Colon in The Bocas del Toro Archipelago. You can get there directly by plane or take an overnight bus from Panama city to mainland Bocas del Toro and then a water taxi to the Island.

On your must-visit list plenty of things; first Bocas del Toro town and re-live the past by walking around this beautiful Caribbean town that looks pretty much the same as it did at the beginning of the 20th century. Also, pay a visit to Boca del Drago, the first place visited by Christopher Columbus in Panama. Relax on Drago Beach or take a short walk to Starfish beach where you will find, as the name suggests, several beautiful starfishes. You can also walk "jungle" trails and visit a Ngobe Indian community there.
A few minutes away by boat you can go to Bird island where you can admire the unique re-billed tropical bird the Phaethon aethereus. This bird sanctuary also attracts brown boobies, pelicans, frigates, and seagulls. It is really nice to see, but to see only because disembarking is not allowed on this island as it is a marine reserve, protecting the species who make this island home.

Make a quick stop in Dolphin Bay and see the dolphins swimming in the ocean, it is guaranteed that you will see them and if you are sharp enough with your camera you can get a picture or two. If your thing is snorkeling, from there you can go to Coral Cay (Crawl Cay) and admire the coral formations around this really small island. You can also enjoy delectable seafood lunches. Several tours normally include these two destinations.

If you want a full day of sunbathing, swimming, snorkeling, and even scuba diving, you want to be near crystal clear waters, calms waves, and golden sand the place for you is Zapatillas Cays, two islands on a coral platform surrounded by beautiful reefs. They are located inside the protected Bastimentos Island National Marine Park (therefore an entrance fee is required). The western of the islands, Zapatilla Minor is famous because of the sea turtles that come to the island to lay their eggs.


Another very popular place in Bocas del Toro is Red Frog Beach, famous for…wait for it…the Red frog! This tiny and cool animal only lives in Panama. You can walk across a jungle-like trail on the island where you can find the frogs, but honestly, they are difficult to spot because they are minuscule. However, the local children are experts and catch them to show tourists. After seeing the red frogs you can spend a nice afternoon swimming and sunbathe on the beach. Be careful though, the waves and currents are pretty strong here!

What else? So much more… go and take an adventure on the Sloth trail. This path is divided into two: an aquatic and a land trail, and is done with local Indian guides who can be hired in the restaurant of the community Timorogo. First, you go in rowing boats through a creek where you can spot many birds and as the trail name suggests sloths. Then you go by land through some old plantations to finally meet a "hill" that is actually a coral reef that ended up in the middle of the island by earth movements in a timeframe of thousands of years. There are also caves in the "hill" where bats live. It is very interesting to see!

And for the surfers? Some of the most popular surfing spots are in Bocas del Toro, from Isla Colon you can easily go to Paunch, Bluff's beach, Inner Dumpers, Outer Dumpers, and the Curve. From Red Frog beach you can go to Wizard Beach, Long Beach, or even try it in Red Frog Beach itself.
Come to Bocas del Toro, an adventure waiting for you!