Tourism of panama - country is positioned as a world power
Adventure Food & Drink Hot List Inspiration Lifestyle Mini Break
Panama tourism, once again, stands out in the Latin American region. For the World Economic Forum, Panama is now a regional tourism power.
Panama is the most visited country in Latin America. Either by tourists who make stops in the country, or who come to spend a few days on vacation, Panama received only last year, more than two million visits, with tourists who entered mostly from the United States, Colombia, Venezuela, Spain, Brazil, Argentina, Mexico, Ecuador, Costa Rica, and Peru.
PANAMA TOURISM
There are many activities and things to do in Panama when a tourist wants to visit the country. Panama's tourism is nourished not only by tickets by air but also by sea and land. Tocumen International Airport is the main port of entry into the country. However, a large number of tourists enter the country through cruise ships, which usually cross the Panama Canal.
It is important to note that the tourism industry represented $ 4.1 billion last year for Panama. More than two million tourists were received, surpassing Costa Rica, Chile, and Argentina, according to official figures.
For the World Economic Forum,
Panama
is now a regional tourism power.
TOURISM OF PANAMA - IN FIGURES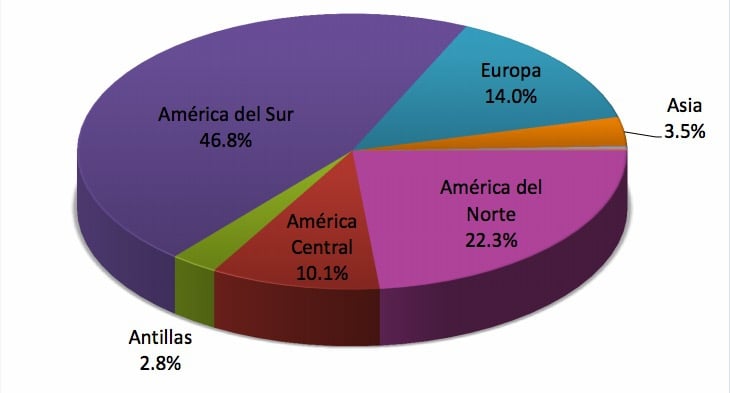 The average stay of a visitor in Panama is approximately 8.5 days and spends on average, per stay, a total of 1,787 balboas and about 210 balboas daily.
Tourism contributed 8% to the growth of the Gross Domestic Product in 2016 and increased the number of jobs in the country by 9%.
The visitors from South America were the ones who entered the most through Tocumen Airport during the period from January to October 2016.
A report published by the World Economic Forum indicates that the growth of the sector is based on an attractive business environment and a privileged geographical position.
Also, Panama has an important connectivity system. There are also cruises and heavy investments in new hotels, says Manuel Ferreira, director of Economic Affairs of the Chamber of Commerce, Industries and Agriculture of Panama (CCIAP).