Buenaventura Golf & Beach Resort Panama
Adventure Arts & Culture Editorial Family Fun Food & Drink Inspiration Lifestyle Retreats & Relaxation Sports
Recreating a traditional, Spanish colonial city built around a square, the Buenaventura Golf & Beach Resort Panama is the focal point of a upscale, integrated resort and real estate project along an isolated strip of silver–sand beach on Panama's Pacific Coast.
The centerpiece of the area's community life is the square links a shopping center, a white-steepled church, a breathtaking old-growth Corotu tree, and the 126–room
Buenaventura Golf & Beach Resort Panama.
Alongside the leisure and recreational facilities, an 18–hole Nicklaus Design par–72 championship golf course rounds out the offerings. Painted in warm earth tones and topped with Tejas, the Buenaventura closely integrates with the natural environment and the nascent residential area, creating a bit of a southern California suburban feel.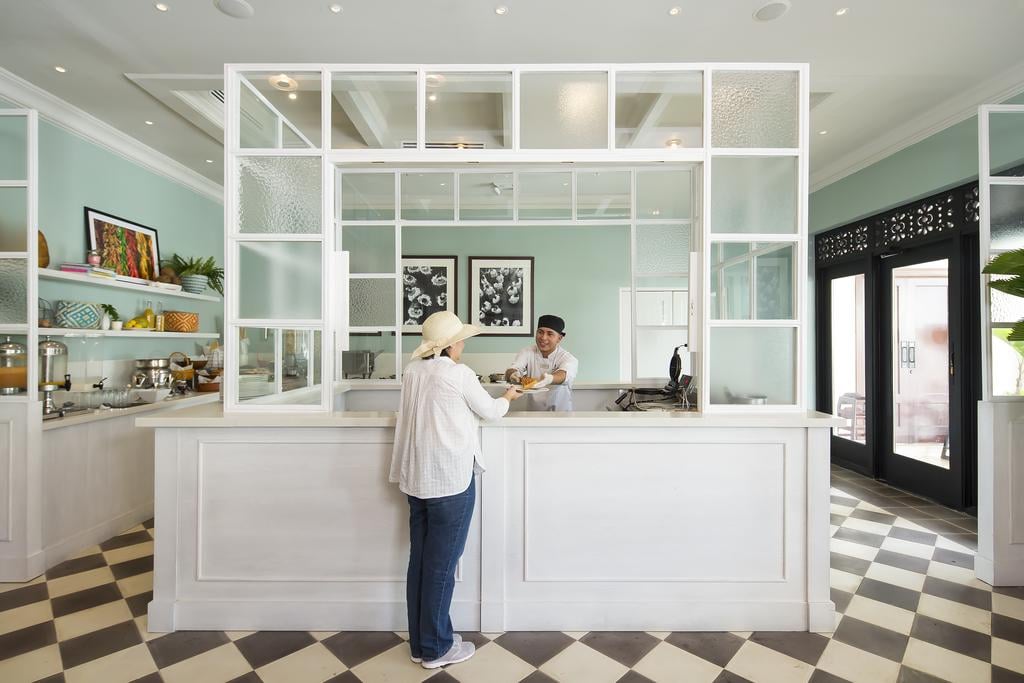 Opened in 2009, the Buenaventura joined the luxury hotel brand Marriott in September 2012 and was renamed Buenaventura Golf & Beach Resort Panama. The hotel sits ninety minutes from its sister hotel, the Bristol in Panama City. Both hotels are members of the Leading Hotels of the World.
Five kilometers off of the Inter–American highway
, you wind along a two–lane road through tropical dry forest and past a security gate to the hotel's porte-cochere entrance. The open–air lobby/reception space houses a seating area looking onto the plaza at one end and the expansive pool area on the other.
Buenaventura Golf & Beach Resort Panama features five restaurants ring an inner courtyard adjacent to the lobby. Buffet and a la carte breakfasts are served in the courtyard restaurant named Terrazas Caobos. The place settings are formal, creating a graceful ambiance in this casual setting.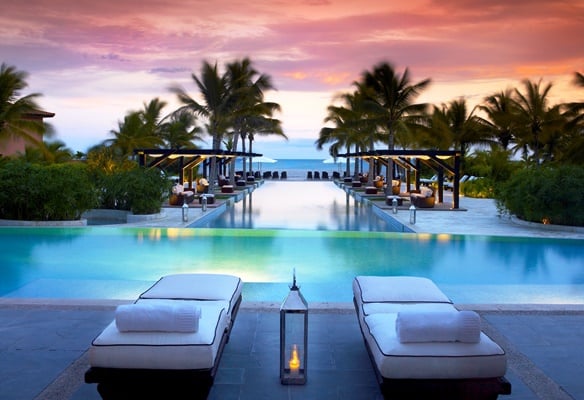 Hotel fine dining option serving international and Panamanian dishes led by a renowned chef. A door away is the chic and elegant Bar a Lago popular with both residents and guests alike. These venues spill onto a terrace that overlooks a fountain–clad moat framing the expansive pool area. Snacks, including lunch, are also available at the hotel pool and at the
El Faro Beach Club
, which welcomes hotel guests. Stretching into the moat is a glass–encased thatched-roof building called the Palapa where Sunday buffets are served, which can also be rented out for special occasions.
The hotel's expansive grounds provide plenty of options for relaxation. Between the hotel and the pool area, guests cross a short bridge past a large bronze Manuel Carbonell sculpture which presides over multiple pools, fountains, and sun decks dotted with thick–cushioned chaise lounges. For a little more privacy, guests have access to the El Faro Beach Club, which opens up to a decadent pool overlooking the palm-fringed beach. This exclusive enclave with comfortably furnished poolside cabanas provides ample shade and tranquility;
Buenaventura's fitness center enables more rigorous activities with offer cardio machines, weights, and exercise classes. There is also a sand volleyball court and tennis courts. The hotel boasts an 18–hole Nicklaus Design par–72 championship golf course and the new full-service Corotú Spa which provides a variety of body treatments, relaxing massages, and hydrotherapies.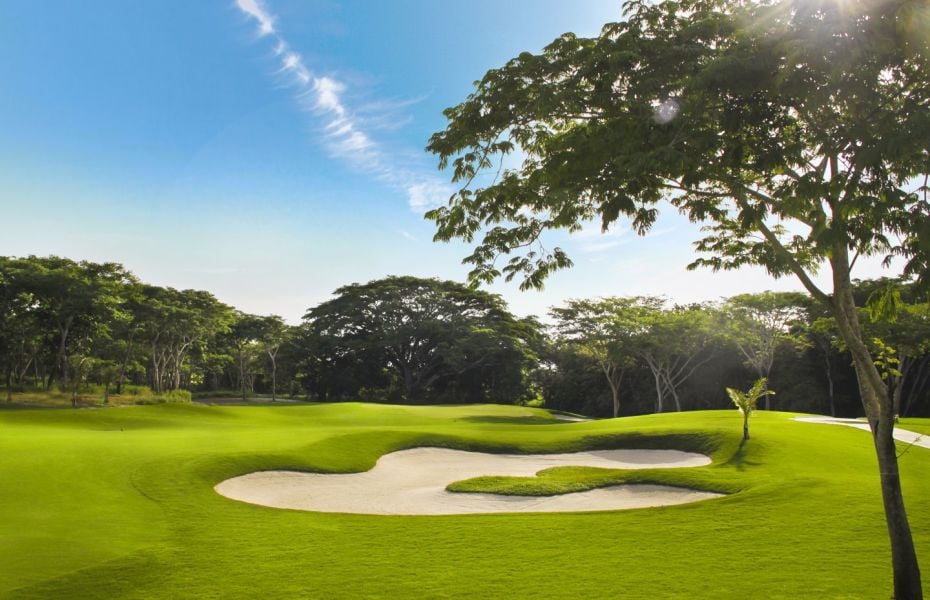 Two elevators lead to three floors of guest quarters accessed along exterior walkways. All rooms are sumptuously appointed with pillow-top mattresses encased in half-canopied beds, cloud-like pillows, high thread count sheets, 42" flat-screen TVs with cable and pay–per–view movies, wireless Internet, data ports, phones, desks, and day beds all set atop hardwood floors. The spacious bathrooms have glass door walk–in showers, long countertops with plenty of toiletries, and deep tubs with wooden shutters opening up to the living area. All rooms have balconies with chairs and table sets overlooking the pool area and the Pacific Ocean. Deluxe rooms have a larger interior space but smaller balconies.
Beyond the basics, minibars are well-stocked, ice buckets are replenished nightly, and turndown service encourages you to slip into the comfy robe and slippers.
Bringing a little bit of the city to the beach, the Buenaventura Golf & Beach Resort Panama meeting rooms, with a capacity of 350 – 400 in two connecting salons, is the best Panama has to offer outside of the capital. Entered through a foyer on the ground floor, a spacious glass-enclosed patio with views to the central plaza fronts the two meeting salons. Dark wooden beams decorate cream-colored ceilings and look down on polished cream stone tile floors. The salons have coved ceilings and fabric wall panels which make for excellent acoustics. Conducive to promoting short meetings, three board rooms with large windows facing the water are available to the right of the reception area.
Security is tight in this private community and all visitors must pass through a security gate that checks identification against a printed guest list. Service is sophisticated with a touch of casual one might expect as they escape the hustle and bustle of the city to enjoy a little beachside.