Your dream wedding in Buenaventura Resort
Celebrities Inspiration Lifestyle Retreats & Relaxation Top 10
Anyone who dreams of an iconic romantic destination wedding must explore the charms of the Buenaventura Golf & Beach Resort in Panama. This venue oozes relaxation and charm and is the ultimate lush idyll for couples looking to spend some quality time together: perfect for anyone wishing to get married in Panama.
Here are 8 reasons why you'll love it...
The Location
Situated west of Panama City and on the banks of Buenaventura, and set among tropical gardens and lagoons, this magical resort is a perfect place to get in touch with your romantic soul.
Weddings at the Buenaventura Golf & Beach Resort add a touch of unique class to any ceremony and are popular with both local couples AND couples travelling from abroad for a destination wedding in the Panama sun. All couples can take advantage of the dedicated wedding team that'll help you turn all your wedding dreams into a wonderful reality. And, you'll enjoy the whole Buenaventura experience, should you decide to stay on at the resort for your honeymoon and create the romantic sojourn of a lifetime.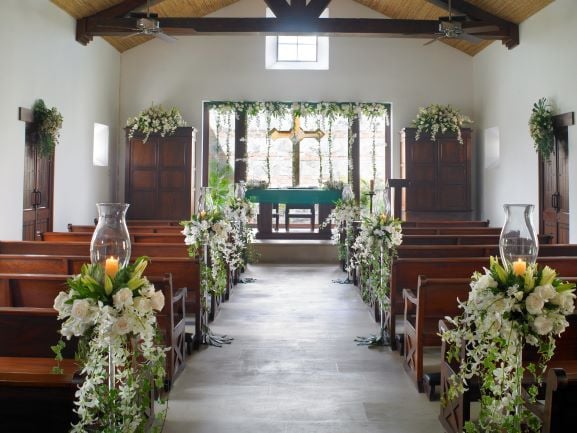 Buenaventura Golf & Beach Resort Panama
The Choice of Wedding Venues
This five-star resort really knows how to lay out the red carpet and can host up to 800 guests for your celebration. With gourmet catering facilities, a superb choice of wedding venues on the site, and very helpful hotel staff to assist you, all you have to do is present your budget, indicate your choices and then leave the planning to the professionals.

You'll be able to choose from a beachfront venue at the El Faro beach club, to a romantic ceremony at the La Ermita chapel. There are also the Plaza Corotu and the Buenaventura golf club which are ideal for a wedding ceremony. The resort has been designed so that it can cater for both intimate ceremonies to lavish events that can host hundreds of guests – every ceremony can be tailored to your express wishes and dreams, with the decor and flowers that will fit in with your wedding plan.

Honeymoon by the Pacific Ocean
Your whole adventure starts the moment you book your trip. If you're planning to stay at the resort after the actual wedding day, all you have to do is state the type of experience you're looking for and then the hotel will lay out its charms for you. 'Buenaventura' means 'good luck' In English – and you'll certainly feel that the gods of good fortune are smiling down as you sip champagne, enjoy a couple's massage and then go on horseback to your own spot on the resort's private beach and enjoy the splendours of the Pacific Ocean right on your doorstep.



Buenaventura Golf & Beach Resort Panama
Lots of Treats & Pleasures
Whether you're celebrating an anniversary, wedding or simply looking for a romantic getaway, the staff at the Buenaventura Golf & Beach Resort will do all they can to make your visit memorable. The hotel's 5-star villas and suites are the last words in luxury, with plunge pools and private terraces that are ideal for private fun and enjoyment. As you'd expect the furnishings are immaculate, marble baths and 42" televisions are just a few of the amenities on offer, and the views from your bedroom windows are stunning. As you'd expect, the service is first class. You can enjoy chocolate-covered strawberries, rose petals strewn on the bed, daily champagne breakfast – all the stuff of dreams. If you're looking for romance, then look no further.

Full-time Fun & Activities
Enjoying activities together is part and parcel of a romantic interlude, and the leisure opportunities on offer here are superlative. Hiking, riding and sailing are just a few of the delights that you can enjoy during your stay. If you're both golf enthusiasts, then you will relish the Jack Nicklaus designed 18-hole golf course. The course is private welcoming only members, their guests and hotel residents, so you can enjoy a splendid day's golf in some magnificent surroundings.

Plenty of Ways to Unwind
After a day packed full of wonderful exercise, you can unwind in the resort's Corotu Spa. Pamper yourselves with a body massage and cleanse your body and soul in one of the spa's five treatment rooms.
Lovers of watersports are catered for and scuba diving, river rafting and water skiing are all on offer. The hotel staff will only be happy to help you make the most of your romantic time together.

Feasting & Eating
Food is an intrinsic part of any romantic getaway or honeymoon. You can take advantage of the hotel's six restaurants. The dining options here are famous throughout Panama for their excellence and range of choice. Enjoy the theatre of a cocktail served by a world-class mixologist. Enjoy a Japanese themed meal in the Tai Kai sushi and martini bar or sample the very best of French and Panamanian cuisine at the Criollo restaurant. Should you wish to delight in some local rum flavours, then the Palapa bar is the place for you. You'll never be short of something to do or see at this resort.
If you prefer a more intimate setting for your meal, you only have to ask, and you'll be able to enjoy your repast in the privacy of your own suite, all prepared by your own private chef. With candles lit, exquisite tableware, the backdrop of the waves rolling across the beach and just the two of you, this is the place where memories are created.

Buenaventura Golf & Beach Resort Panama
Further Adventures
The resort takes into account that you may wish to explore a bit more of Panama itself during your stay at the resort. You can always take a thrilling helicopter ride to the Panama Canal, enjoy a wonderful meal and then return to the resort. Alternatively, ask the staff to pack you a picnic, hire a motorbike and explore this part of Panama. There are hundreds of private inlets where you can simply be on your own and enjoy each other's company.
A wedding and honeymoon in Panama at this resort is nothing short of perfection, and if you choose this venue for your destination wedding, you can rest assured that you'll be booking first-class expertise and service, sophistication and a dream ceremony in an earthly equivalent to paradise