Nightlife in Panama and the places you can't miss
Celebrities Hot List Lifestyle Opening Party Parties
Panama, has everything to be a cosmopolitan, extensive roadways that facilitate the transit of those who live in it or are visiting, the presence of major companies within the city, and an invaluable architectural development, which have made it the whereabouts of a large number of tourists and home to countless foreigners, the nightlife in Panama does not escape from being equally incredible.
Like everything else in the country, thanks to the development that has taken place in the last decade, as far as infrastructure is concerned, the Panamanian nightlife has been growing like crazy, because tourism has demanded it and why not? so has civilization in general. In this entry we will tell you about the night activities you can do in the city, we promise you will not be bored.
Nightlife in Panama: Calle Uruguay
If what you are looking for is to visit a tapas bar, together with your friends or have an after office chat with your colleagues, the best option is to visit Uruguay Street, since it is located in the vicinity of an important business area, which allows easy access to pubs and bars for those who work near it.
Uruguay Street is famous for being the heart of the mini-bars in
Panama
, which makes it one of the places in Panama with the best nightlife. In addition, the security is incredible; in each corner you can find police officers in charge of protecting the passers-by in the area. The best thing is that you have countless options to choose from.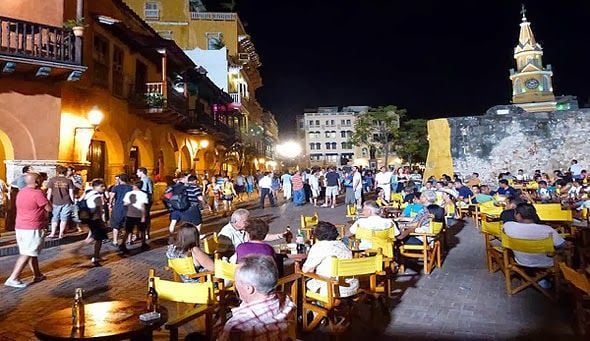 Nightlife in Panama: Casco Antiguo
Whether you know it as
Casco Viejo, Casco Antiguo
or as many simply call it "El Casco", when we talk about nightlife in Panama, the first thing that comes to the mind of many, is this magical place, where in addition to housing a great history and symbolic Panamanian sites, there are also the best night spots in town.
If you want to spend a super top and incredible evening, you can visit Panama's
Casco Antiguo
, it has exclusive places to visit that will leave you amazed; in addition, you have options to choose from, from the finest and most imposing restaurants to the most emblematic tapas bars in Panama.
Nightlife in Panama: Bars, Casinos and Lounges Throughout the City
If you're looking for another type of distraction, such as visiting a casino, the city is full of them. The best hotels in
Panama
have large casinos that make it an attraction for those who like this type of distraction, in these casinos they usually put on live music to liven up the atmosphere, which gives these places an incredible nightlife.
The Hard Rock Hotel, the
JW Marriott
and the Casino at the Hilton Hotel are just some of the options on the table for unforgettable nightlife.